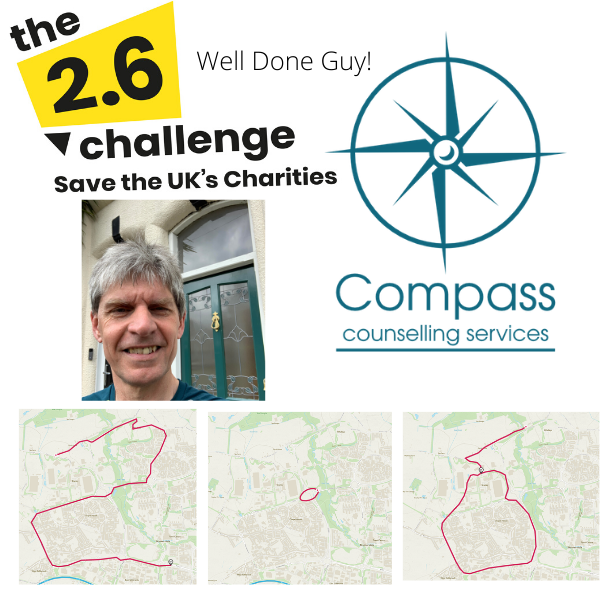 On Friday 8th May, our Chair of Trustees Guy Turnbull ran for an amazing 2.6 hours in support of Compass.
Guy had planned to run the London Marathon on Sunday 26th April, however due to Coronavirus the London Marathon along with many other fundraising events was cancelled. Rather than use the cancellation as a chance to have a rest and forget running long distances, Guy set himself a new challenge. In line with the 2.6 challenge set up in the wake of the marathon's cancellation, Guy set himself the task of running for 2.6 hours around Skelmersdale, aiming to cover around 30km and raise an amazing £2626.26 for Compass in the process.
Guy decided to not only run for 2.6 hours but also to run a 2.6 course, with his run taking place over three distinct areas of Skelmersdale, in the shape of a "2", a "." And a "6". His goal to raise £2626.26 for Compass also followed the 2.6 theme.
His journey was followed avidly by all associated with Compass, including our Twitter feed that posted regular updates as Guy completed each of the three stages. Prior to even racing Guy had the support of none other than Ricky Tomlinson, who made a great video showing his support for both Guy and Compass, whilst Ricky attempted his own 2.6 challenge of running for 2.6 minutes!
So far Guy has raised an amazing £1100 for Compass, which we are so grateful for, but let's see if we can help him reach his goal and help Compass reach the people of Merseyside who really need their help. Please click on the Virgin Money link on our home page or this post and let's get to that £2626.26!
https://uk.virginmoneygiving.com/fundraiser-display/showROFundraiserPage?userUrl=guyturnbull&pageUrl=1