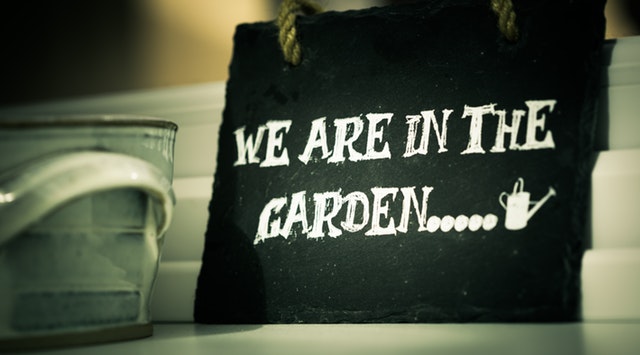 Whilst looking for inspiration for this post, I came across an image on the Thrive Facebook page (national Therapeutic Horticulture Charity) entitled "It's Not Just Gardening". And that's just it, gardening is much more than the physical act. It comes under the umbrella of "Green Care", that is the proven theory that being outdoors and immersed in nature and green spaces has a beneficial impact on our health and wellbeing.
Gardening is therapy
In April 2019 Thrive launched their "It's Not Just Gardening" campaign https://www.thrive.org.uk/its-not-just-gardening.aspx in order to promote the "5 big benefits of gardening" and are on a mission to help us experience how gardening can improve our health and well-being.
The act of gardening and being outdoors in nature and green space promotes:
Physical Benefits: Why gardening is good for your body
Mental Health Benefits: Why gardening is good for your mind

Gardening has been shown to:
Reduce depression, anxiety and stress-related symptoms
Alleviate the symptoms of dementia, such as aggressive behaviour
Increase the ability to concentrate and engage
Reduce reliance on medication, self-harming behaviour

Social Benefits: Gardening can provide a social lifeline
Learning Benefits: How gardening can develop new skills
Nature benefits: Being in a garden can make you feel good
The benefits of gardening have long been known and observed. Back in 1894, the poet Alfred Austin wrote:
"The glory of gardening: hands in the dirt, head in the sun, heart with nature. To nurture a garden is to feed not just the body, but the soul."

Alfred Austin, The Garden that I Love, 1894
And at recent the RHS Chelsea Flower Show, The RHS "Back to Nature Garden", co-designed by HRH The Duchess of Cambridge HRH, was intended to "highlight the benefits the natural world brings to mental and physical well-being."
The evidence of its benefits are so strong that GPs can refer patients to therapy gardens as part of a new NHS / RHS mental health treatment pilot. Prof Tim Kendall, national clinical director for mental health, NHS England, said: "Gardening is good for our mental health as it offers physical exercise, which improves depression and anxiety, and also helps people find companionship and support." (The Telegraph, GPs can refer patients to new therapy gardens in town centres as RHS funds mental health treatment pilot, 22 April 2019)
Not convinced? Try it for yourself!
Grow your own
To get started, even on a budget, just start small. Try a pot of salad leaves or herbs, on a windowsill, if you have no outdoor space. Recycle a used container if you don't have a plant pot or seed tray, just ensure you put drainage holes in the bottom and a saucer or tray underneath to catch the water. Margarine and ice cream tubs or tin cans would work well. Buy a small bag of multipurpose compost and seeds from one of the budget stores. Follow the instructions on the packet and within days you'll be nurturing seedlings.
With a larger container outdoors, you can grow a range of easy grow crops such as lettuce, rocket, chard, peas and beans, squash and pumpkin, tomatoes, strawberries. Used tyres make fabulous raised planters and are often available free of charge from garages. The sense of satisfaction and taste of your own home grown produce can't be beaten! Prefer flowers? Try calendula, nigella, Californian poppies, cosmos or a wildflower mix – they are quick and easy to grow direct in soil or in a pot.

Fancy some company?
Find a local community garden or volunteer gardening project.  The RHS, Thrive and Trellis websites have a searchable database of community gardens.  Here in Southport our local parks and Rotten Row all have volunteer groups looking after the beautiful gardens.  Try gardening with friends and family.  I love nothing more than potting on or seed sowing over our garden table or ripping out weeds with a like-minded friend or sowing seeds and watering with my children.  Gardening with children usually incorporates getting very wet and muddy, and a bug/wildlife hunt.
Tips for getting started
Find and join a gardening group www.rhs.org.uk/get-involved/find-a-group www.trellisscotland.org.uk/content/find-project for social gardening, gardening talks, garden tours, social events, inspiration and support from more seasoned gardeners.  Visit gardens on the National Garden Scheme for ideas www.ngs.org.uk/.
Invest in some basic tools to get started e.g. a hand trowel and hand fork for small spaces and a garden spade and fork for larger gardening projects.  The budget stores/supermarkets have a range of budget gardening tools and supplies.  Longer term, investing in wooden handled stainless steel tools will provide longevity.
Grow from seed – budget stores have a range of seeds at a fraction of the price of the garden centres.
Search for bargain bedding plants and perennials in the budget stores and supermarkets.  Visit smaller plant nurseries where plants are grown on site.  Check out the "Clearance" section of the Garden Centres for plants to "rescue".
Swap plants and seeds with family, friends and neighbours. 
Collect and dry seed, store in a paper envelope for next year.  One tomato will give you more plants than you could ever need. A pumpkin will have hundreds of seeds.
"To plant a garden is to believe in tomorrow."

Audrey Hepburn
Happy growing!
Helen Jones – Compass Counselling Ambassador